Arsenic Determination by the Molybdenum Blue Method in Water Samples from a Gold Mineral Processing Plant
Abstract
The purpose of this study was to evaluate the effectiveness of the process of removing arsenic in liquid waste that has been generated by a gold mineral treatment plant from the central region. The Molybdenum blue method by visible ultraviolet spectrophotometric (UV) was used. Linearity, quantification limit, detection limit and precision were determined as performance parameters. All evaluated validation parameters met the regulated requirements; this fact ensures greater reliability in the analytical laboratory work. Finally, it was demonstrated that although the method is effective for metal precipitation, it does not entirely remove the arsenic.
Keywords: arsenic, molybdenum blue, characterization, waste, validation.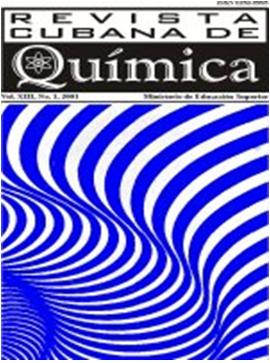 Downloads
How to Cite
Ramírez–Gonzalez, S., Jiménez–Prieto, Y., Esperanza–Pérez, G., Ribalta–Quesada, J. A., & Rodríguez–Rivero, R. A. (2017). Arsenic Determination by the Molybdenum Blue Method in Water Samples from a Gold Mineral Processing Plant. Revista Cubana De Química, 29(1), 3–12. Retrieved from https://cubanaquimica.uo.edu.cu/index.php/cq/article/view/1984
License
This journal provides immediate open access to its content, based on the principle that offering the public free access to research helps a greater global exchange of knowledge. Each author is responsible for the content of each of their articles.