Promoting Plant Growth Characteristics in Isolated Rizobacterias of Soil Contaminated with Compound Phenolic
Abstract
The reason for this research is to determine the characteristics of plant growth promoters in isolated strains of rhizosphere of full grown plants in contaminated soil with phenolic compounds. For this purpose there were collected plants that had representativeness within the group that grew in the Product Movement and Storage Area "Hermanos Díaz" Refinery. Plants were extracted and deposited in plastic bags to preserve them, taken to the laboratory and stored at 4 ° C until use within 30 days. The promoting plant growth characterization was determined by qualitative colorimetric techniques for detecting metabolites such as organic acid, indolacetic acid (IAA) and acetoin. It was also determined the potential to fix nitrogen and solubilise phosphate. In total, there were isolated 63 bacteria obtained from the rhizosphere of 4 plants, of which 52 showed features of plant growth promoters.
Keywords: rizobacteria, phenolic compound, plant growth promoters.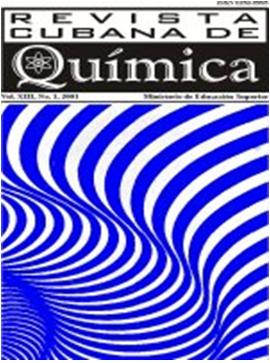 Downloads
How to Cite
Pérez−Portuondo, I., Meriño−Reyes, L., Ábalos−Rodríguez, A., & Pérez−Silva, R. M. (2017). Promoting Plant Growth Characteristics in Isolated Rizobacterias of Soil Contaminated with Compound Phenolic. Revista Cubana De Química, 29(1), 73–88. Retrieved from https://cubanaquimica.uo.edu.cu/index.php/cq/article/view/1993
License
This journal provides immediate open access to its content, based on the principle that offering the public free access to research helps a greater global exchange of knowledge. Each author is responsible for the content of each of their articles.