Caracterización de tipo de aleación amorfa Co87Nb46B15
Abstract
Este trabajo tuvo como propuesta la producción de aleación amorfa Co87Nb46B15 por molienda mecánica de alta energía. La molienda se realizó en un planetario modelo molino NQM2L molino pulverizador donde estaba primera planta durante 5 horas a una velocidad de 300 rpm y con el jarro bolas de acero / acero inoxidable. Los polvos molidos se sometieron a pre-compresión por prensado uniaxial y luego fría prensado uniaxial bajo vacío para obtener la compresión. Los polvos de molienda se caracterizaron por el tamaño y distribución de tamaño de partícula, la composición química, las fases amorfas y la morfología que ocurre durante la molienda y después de la consolidación se evaluaron con la ayuda de la difracción de rayos X (XRD), microscopía electrónica de barrido de (SEM) y espectrometría de energía dispersiva (EDS) y sus propiedades magnéticas, el estudio de la curva de histéresis. La XRD muestra un pico principal en forma de muy amplio de halo indicativo de la amplia aleación amorfa Co87Nb46B15.
Palabras clave: aleación mecánica, aleación amorfa Co87Nb46B15, curva de histéresis.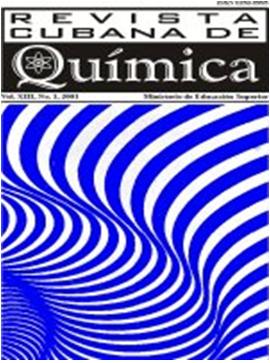 Downloads
How to Cite
Nascimento, L., & Melnyk, A. (2017). Caracterización de tipo de aleación amorfa Co87Nb46B15. Revista Cubana De Química, 29(2), 322–329. Retrieved from https://cubanaquimica.uo.edu.cu/index.php/cq/article/view/2521
License
This journal provides immediate open access to its content, based on the principle that offering the public free access to research helps a greater global exchange of knowledge. Each author is responsible for the content of each of their articles.