Aplicación de las teorías de funcionales de densidad y de Møller- Plesset de segundo orden en el estudio de acetilación de alcoholes
Abstract
Se llevó a cabo un estudio teórico comparativo de reactividad de metanol, n-butanol, terc-butanol, fenol, p-nitrofenol y p-metilfenol frente a la reacción de acetilación, a través del análisis de los intermediarios de reacción correspondientes. La acetilación de alcoholes es una de las transformaciones más frecuentemente usadas en síntesis orgánica, ya que proporciona un medio eficiente y económico para proteger el grupo hidroxilo en un proceso sintético. Las energías de activación y las energías de los intermediarios de reacción, se calcularon con dos niveles de teoría DFT (B3LYP) y MP2 combinados con los conjuntos de base 3-21G* y 6-31G*.Los valores obtenidos se compararon con datos de literatura. El metanol presentó la mayor reactividad frente a la acetilación y el método DFT/6-31G* reportó los valores más bajos de energía.
Palabras clave: acetilación, alcohol, éster, DFT, MP2.
References
STAROŃ, J. et al. "Lactose esters: synthesis and biotechnological applications", Critical Reviews in Biotechnology. 2018, 38 (2), 245-258. ISSN: 0738-8551 (Print)ISSN: 1549-7801 (Online)
KARMEE, S. K. "The synthesis, properties, and applications of ascorbyl esters", Lipid Technology. 2011, 23 (10), 227-229. ISSN: 1863-5377
KOBAYASHI, S. "Enzymatic ring‐opening polymerization and polycondensation for the green synthesis of polyesters". Polymers for Advanced Technologies. 2015, 26 (7), 677-686. ISSN: 1042-7147
NAMEKAWA, S.; UYAMA, H.; KOBAYASHI, S. "Enzymatic Synthesis of Polyesters from Lactones, Dicarboxylic Acid Divinyl Esters, and Glycols through Combination of Ring-OpeningPolymerization and Polycondensation". Biomacromolecules. 2000, 1, 335–338.ISSN:1525-7797
ADINOLFI, M. et al. "An easy approach for the acetylation of saccharidic alcohols.Applicability for regioselective protections". Tetrahedron Letters. 2003, 44, 4661-4663. ISSN:0040-4039
SONG, Z. et al. "Synthesis of insecticidal sucrose esters",Forestry Studies in China, 2006, 8 (3), 26-29. ISSN: 1008-1321
YOON, H. J. et al. "Polymer-supported gadolinium triflate as a convenient and efficient Lewis acid catalyst for acetylation of alcohols and phenols". Tetrahedron Letters. 2008, 49 (19), 3165-3171. ISSN:0040-4039
SHARGHI, H.; JOKAR, M.; DOROODMAND, M. M. "Iron-Doped Single-Walled Carbon Nanotubes as New Heterogeneous and Highly Efficient Catalyst for Acylation of Alcohols, Phenols, Carboxylic Acids and Amines under Solvent-Free Conditions". Advanced Synthesis & Catalysis. 2011, 353 (2-3), 426-442. ISSN: 1615-4169
TAGHAVI, S. A. et al. "Investigation of catalytic activity of high-valentvanadium(IV) tetraphenylporphyrin: A new, highly efficient and reusable catalyst for acetylation of alcohols and phenols with acetic anhydride". InorganicaChimicaActa. 2011, 377 (1), 159-164. ISSN:0020-1693
YADAV, V. K.; BABU, K. G.; MITTAL, M. "KF-Al2O3 is an Efficient Solid Support Reagent for the Acetylation of Alcohols and Amines. Impeding Effect of Solvent on the Reaction Rate". Tetrahedron. 2001, 57 (32), 7047-7051. ISSN: 0040-4020
MOJTAHEDI, M. M.; SAMADIAN, S. "Efficient and Rapid Solvent-Free Acetylation of Alcohols, Phenols, and Thiols Using Catalytic Amounts of Sodium Acetate Trihydrate". Journal of Chemistry. 2013, 2013, 1-7. ISSN: 2090-9063 (Print) ISSN: 2090-9071 (Online)
ESMAEILPOUR, M.; SARDARIAN, A. R. "Dodecylbenzenesulfonic acid as an efficient, chemoselective and reusable catalyst in the acetylation and formylation of alcohols and phenols under solvent-free conditions at room temperature". Iranian Journal of Science & Technology. 2014, 38 (A2), 175-186. ISSN: 1028-6276 (print version)ISSN: 2364-1819 (electronic version)
XIE, M. et al. "Highly efficient and versatile acetylation of alcohols, phenols and amines catalyzed by methylenediphosphonic acid (mdp) under solvent-free conditions". Journal of the Chilean Chemical Society. 2011, 56 (4), 884-886. ISSN: 0717-9707 (version on-line)
FARHADI, S.; PANAHANDEHJOO, S. "Spinel-type zinc aluminate (ZnAl2O4) nanoparticles prepared by the co-precipitation method: a novel, green and recyclable heterogeneous catalyst for the acetylation of amines, alcohols and phenols under solvent-free conditions". Applied Catalysis A: General. 2010, 382 (2), 293-302.ISSN: 0926-860X
KRUGER, H. G. "Ab initio mechanistic study of the protection of alcohols and amines with anhydrides". Journal of Molecular Structure (Theochem). 2002, 577, 281- 285.ISSN: 0166-1280
LUGEMWA, F. N.; SHAIKH, K.; HOCHSTEDT, E. "Facile and Efficient Acetylation of Primary Alcohols and Phenols with Acetic Anhydride Catalyzed by Dried Sodium Bicarbonate". Catalysts. 2013, 3, 954-965. ISSN: 2073-4344
PARR, R. G.; YANG, W. Density-functional theory of atoms and molecules. New York: Oxford University Press, 1989. ISBN: 978-0-19- 987872-7
BECKE, A. D. "Density-functional thermochemistry V. Systematic optimization of exchange-correlation functionals". The Journal of Chemical Physics. 1997, 107 (20), 8554-8560. ISSN: 1089-7690
FRISCH, M. J.; TRUCKS, G. W. et al. Gaussian 09, Revision D.01. 2da Edición. Wallingford CT, USA:Gaussian, Inc., 2009. ISBN: 978-1-935522-02-7
CAGLIERI, S. C.; PAGNAN, M. "Estudio teórico sobre la hidrólisis ácida de amidas alifáticas y aromáticas". Información Tecnológica. 2013, 24 (3), 35-40. ISSN: 0718-0764
CAGLIERI, S. C.; MACAÑO, H. R. "Acetilación de aminas alifáticas y aromáticas: estudio teórico". Información Tecnológica. 2016, 27 (2), 105-110. ISSN: 0718- 0764
CAGLIERI, S. C.; MACAÑO, H. R. "Reactividad de aminas en la acetilación catalizada por ácidos de Lewis e influencia de solventes: Estudio Teórico". Ingeniería, Investigación y Tecnología. 2018, 19 (2), 239-244. ISSN: 1405-7743
BRUCKNER, R. Advanced Organic Chemistry: Reaction Mechanisms. Freiburg, Germany: Academic Press Elsevier, 2001. ISBN: 9780080498805
HABIBI, D.; RAHMANI, P.; AKBARIPANAH, Z. "Acetylation of phenols, anilines, and thiols using silica sulfuric acid under solvent-free conditions". Journal of Chemistry. 2013, 2013, 1-6. ISSN: 2090-9063 (Print)ISSN: 2090-9071.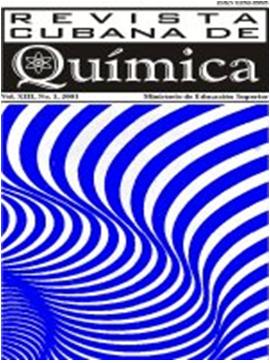 Downloads
How to Cite
Claudia Caglieri, S., & Rubén Macaño, H. (2019). Aplicación de las teorías de funcionales de densidad y de Møller- Plesset de segundo orden en el estudio de acetilación de alcoholes. Revista Cubana De Química, 31(2), 174–184. Retrieved from https://cubanaquimica.uo.edu.cu/index.php/cq/article/view/4891
License
This journal provides immediate open access to its content, based on the principle that offering the public free access to research helps a greater global exchange of knowledge. Each author is responsible for the content of each of their articles.