Biosimilitud in vitro de tabletas de ranitidina 300 mg dispensadas en pobladores peruanos
Abstract
El estudio estuvo orientado a determinar la biosimilitud in vitro de las tabletas de ranitidina 300 mg multifuente y referente que se prescriben y dispensan en pobladores peruanos. Se utilizaron 12 tabletas procedentes de dos laboratorios (multifuente y referente), que fueron analizadas en tres medios de disolución con buffer pH 1,2; 4,5 y 6,8; para obtener la cantidad de medicamento disuelto en función del tiempo. Los resultados para los medios de disolución indican que los datos se ajustaron al modelo cinético orden uno, el tratamiento estadístico para el tiempo medio de disolución y eficiencia de disolución mediante t student evidenció que no existe diferencia significativa entre el medicamento multifuente y referente. Los valores del factor de similitud f2 fueron 83,3; 75,8 y 71,1 para los pH 1,2; 4,5 y 6,8 respectivamente. Se concluye similitud biológica entre el medicamento multifuente y referente, basado en pruebas de disolución in vitro.
Palabras clave: biosimilitud, biológico, ranitidina, multifuente, referente.
References
HUAYANAY, L. "Bioequivalencia en medicamentos". Revista Médica Herediana. 2012, 23 (4), 221-222. ISSN 1018-130X.
KANO, E.; MORI, E.; GRIGOLETO, S.; DOS REIS, C.; ABIB, E.; PEREIRA, R.; TAKAMATSU, M.; IECCO, M.; PORTA, V. "Average bioequivalence of single 500 mg doses of two oral formulations of levofloxacin: a randomized, open-label, two-period crossover study in healthy adult Brazilian volunteers". Brazilian Journal of Pharmaceutical Sciences. 2015, 51 (1), 203-211. ISSN 2175-9790
KASSAVE, L.; GENETE, G. "Evaluation and comparison of in-vitro dissolution profiles for different brands of amoxicillin capsules". AfricanHealthSciences. 2013, 13 (2), 369-375. DOI: 10.4314/ahs. v13i2.25.
MINISTERIO DE SALUD DEL PERÚ. "Reglamento para el Registro, Control y Vigilancia Sanitaria de Productos Farmacéuticos y Afines". Decreto Supremo 016-2011-SA. Lima: MINSA; 2011.
HERRERA, O.; GRANDE, M. "Equivalencia terapéutica de tabletas de diazepam dispensadas en la ciudad de Ica, Perú". Revista Médica Herediana. 2012, 23 (3), 154-159. ISSN 1018-130X.
PEREIRA, Z. "Oferta y demanda de estudios de equivalencia terapéutica (in vitro e in vivo) de medicamentos en Costa Rica". TecnologíaenMarcha. 2016, 29 (1), 18-27.ISSN 0379-3982.
SMEKHOVA, I.; MOLDAVER, B.; PEROVA, Y. "Equivalence of ranitidine generic tablets studied using the in vitro dissolution test". Pharmaceutical Chemistry Journal. 2009, 43 (11), 632-636. ISSN 0091-150X/09/4311-0632.
DE FREITAS, A.; SANTOS, I.; LIMA, V.; LEAL, R.; CAETITE, E. "Test of dissolution and comparison of in vitro dissolution profiles of coated ranitidine tablets marketed in Bahia, Brazil". Brazilian Journal of Pharmaceutical Sciences. 2014, 50 (1), 83-89. ISSN 2175-9790.
FARMACOPEA DE LOS ESTADOS UNIDOS DE AMÉRICA – USP 41 – NF 36. TheUnitedStatesPharmacopeialConvention. 2018, 3, 6138-6140.
NAVARRO, G.; CABRAL, P. "Aplicación de métodos modelo-dependiente y modelo-independiente en el desarrollo de una formulación de comprimidos de Captopril". Revista Colombiana de Ciencias Químico - Farmacéuticas. 2009, 38 (1), 19-30. ISSN 0034-7418.
WORLD HEALTH ORGANIZATION. "Annex 8: Proposal to waive in vivo bioequivalence requirements for WHO Model List of Essential Medicines immediate-release, solid oral dosage forms". TechicalReport Series N° 8. 2006.
MEDINA, J.; HURTADO, M.; CORTÉS, A.; DOMÍNGUEZ, A. "Disolución comparativa de indometacina en cápsulas utilizando los Aparatos 1 y 4 USP". Revista mexicana de ciencias farmacéuticas. 2012, 43(3), 72-80. ISSN 1870-0195.
JUNG, H.; ANDA, G.; RUBIO, K.; MAYET, L. "Comparación de perfiles de disolución: Impacto de los criterios de diferentes agencias regulatorias en el cálculo de ƒ2". Revista mexicana de ciencias farmacéuticas. 2012, 43 (3), 67-71. ISSN 1870-0195.
FRETES, S.; VÁSQUEZ, M.; LUGO, G. "Evaluación comparativa entre los perfiles de disolución de comprimidos similares de Lamotrigina de 25mg y el fármaco innovador, comercializados en Paraguay". Memorias del Instituto de Investigaciones en Ciencias de la Salud. 2016, 14 (2), 53-60. ISSN 1812-9528.
BRIJESH, D.; AVANI, A.; MADHABHAI, P. Gastroretentive Drug Delivery System of Ranitidine Hydrochloride:Formulation and in vitro evaluation. American Association of Pharmaceutical Scientists. 2004, 5(2), 77-82.DOI: 10.1208/pt050234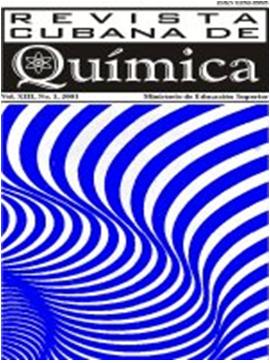 Downloads
How to Cite
Urquiza Gavidia, D. I., Merar de los Santos Valencia Alayo, K. E. i, Castillo Saavedra, E. F., & Ayala Jara, C. I. (2019). Biosimilitud in vitro de tabletas de ranitidina 300 mg dispensadas en pobladores peruanos. Revista Cubana De Química, 31(2), 199–208. Retrieved from https://cubanaquimica.uo.edu.cu/index.php/cq/article/view/4893
License
This journal provides immediate open access to its content, based on the principle that offering the public free access to research helps a greater global exchange of knowledge. Each author is responsible for the content of each of their articles.