Análise sobre a estabilidade química dos óleos de algumas sementes do cultivo angolano
Abstract
A inquestionável riqueza da flora angolana e a crescente procura de produtos naturais, seja na área medicinal como na alimentar, motivou o estudo sobre o comportamento químico de óleos isolados de seis distintas sementes: gergelim (Sesamun indicum L), pevides de abóbora (Curcubita moschata ) e (Cucumeropsis edulis), pimenta preta (Piper nigrum), gipepe (Monodora myristica) e missange (Xylopia aethiopica), dado o seu valor nutritivo e preventivo na saúde humana.Com estudo espectroscópico Infravermelho de alguns desses óleos verificou-seque mantêm o seu aspecto químico durante o aquecimento da cozedura, garantindo assim a segurança ao consumidor. A realidade actual é um imperativo no recurso aos produtos da nossa flora,como fonte de alimento e fitoquímicosno combate as enfermidades; uma oportunidade para a redução/eliminação da fome e pobreza na nossa sociedade. Os óleos essenciais constituem uma fonte económica para o país.
Palavras chave:estabilidade,óleos, dieta,prevenção, saúde.
References
CUNHA, A. P. Plantas Aromáticas e Óleos Essenciais Composição e Aplicações. Lisboa: Fundação Calouste Gulbenkian, 2012. ISBN: 978-972-31-1450-8.
FERREIRA, A. R. A. Uso de óleos essenciais como agentes terapêuticos. Dissertação (Mestrado em Ciências Farmacêuticas), Faculdade de Ciências da Saúde, Universidade Fernando Pessoa, Portugal, 2014.
NAIRANY PAULA B. et al. Potencial antioxidante e antimicrobiano de óleosessenciais de especiarias: uma revisão. Destaque. Intituto Federal de Educação, Ciencia e Tecnologia de Piaui, Brazil, 2015.
SILVA, L.; FERRARI, R. A.; PARK, K. J. Óleos de sementes de abóbora e de moranga, obtenção e características. Faculdade de Engenharia Agrícola, UNICAMP. CEP:13083-875 Instituto de Tecnologia de Alimentos. CEP: 13070-178.
NWOZO, S. O.; OROJOBI B. F.; ADARAMOYE, O. A. "Hypolipidemic and antioxidant potentials of Xylopia aethiopica seed extract in hypercholesterolemic rats". Journal of Medicinal Food. 2011, 14 (1-2), 114-9. doi: 10.1089/jmf.2008.0168.
CORSO, M. P. Estudo da extração de óleo de sementes de gergelim (Sesamun indicumL.) empregando os solventes dióxido de carbono supercrítico e n-propano pressurizado. Toledo – PR, Brazil, 2008.
NWOZO, S. O, et al. "African Nutmeg (Monodora Myristica) Lowers Cholesterol and Modulates Lipid Peroxidation in Experimentally Induced Hyper cholesterolemic Male Wistar Rats". International Journal Biomedical Science. 2015, 11 (2), 86–92. PMCID: PMC4502738.
FLEISCHER, T. C. et al. "Antimicrobial Activity of Essential Oils of Xylopia Aethiopica". African Journal of Traditionel Complementary and Alternative Medicines. 2008, 5 (4), 391–393. PMCID: PMC2816578.
ZOHEIR, A.; DAMANHOURI, A. A. "Review on Therapeutic Potential of Piper nigrum L. (Black Pepper): The King of Spices". Medicinal & Aromatic Plants. 2014, 3,161. doi:10.4172/2167-0412.1000161.
PIGHINELLI A, L. M. T. et al. "Otimização da prensagem a frio de grãos de amen do imemprensa continua tipo expeller". Ciência e Tecnologia de Alimentos, Campinas. 2008, 28 (Supl.), 66-71. ISSN: 0101-2061.
CANCIAM, C. A. "Predição do coeficiente de expansão térmica do óleo de gergelim (Sesamum indicum L.) através da aplicação de regressão linear". Universidade Tecnológica Federal do Paraná – Campus Ponta GROSSA. 2010, 3 (1), ISSN 1984-3151.
SILVA, F. A. M.; BORGES, M. F. M.; FERREIRA, M. A."Métodos para avaliação do grau de oxidação lipídica e da capacidade antioxidante". Química Nova. 1999, 22 (1), 94-103. ISSN:1678-7064.
LOPES, W. A.; FASCIO, M. "Esquema para interpretação de espectros de sustâncias orgânicas na região do infravermelho". Química Nova. 2004, 27 (4), 670-673. ISSN: 0100-4042.
MCMURRY, J. Química Orgânica. 6ª Ediçao,Vol. 1, Estados Unidos: Thomson, 2005. ISBN 85-221-0415-8.
MADUIKE, E. M.; ANUNA, N.C. "Infrared Spectroscopy and Microorganisms Associated with African Nutmeg (Monodora myristica) Seeds Sold in a Municipal Market in Imo State, Nigeria". Asian Journal of Research in Medical and Pharmaceutical Sciences. 2018, 3 (3), 1-7. ISSN: 2457-0745.
AGIRIGA, A.; SIWELA, M. "Monodora myristica (Gaertn.) Dunal: A Plant with multiple food, Health and medicinal Aplications: A Review". American Journal of food Technology. 2017, 12 (4), 271-284. doi:10.3923.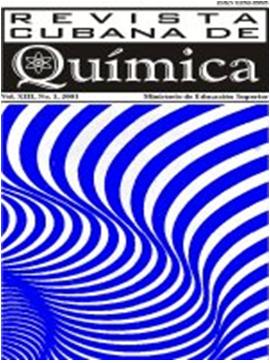 Downloads
How to Cite
Benza Canda, A. (2019). Análise sobre a estabilidade química dos óleos de algumas sementes do cultivo angolano. Revista Cubana De Química, 31(2), 283–292. Retrieved from https://cubanaquimica.uo.edu.cu/index.php/cq/article/view/4901
License
This journal provides immediate open access to its content, based on the principle that offering the public free access to research helps a greater global exchange of knowledge. Each author is responsible for the content of each of their articles.