Adsorción de impurezas del jugo clarificado de la industria azucarera mediante biomasa pirolizada
Abstract
En este trabajo se prepararon dos adsorbentes a partir de la cáscara del fruto de Jatropha curcas, para evaluar su efectividad en la remoción de impurezas coloreadas presentes en el jugo clarificado obtenido del proceso de fabricación de azúcar de caña. Partiendo de la cáscara molida y tamizada (diámetro<2 mm) del fruto de Jatropha curcas se fabricaron dos pirolizados mediante deshidratación inicial con ácido concentrados (ácido sulfúricoy ácido fosfórico), y posterior pirólisis a 500 ºC. Se verificó, mediante análisis estadístico, que el PAF (elaborado por deshidratación con ácido fosfórico) eliminó el 47,4±1,8 % de las impurezas coloreadas, con respecto al 36,8±1,6 % eliminado por el PAS (elaborado por deshidratación con ácido sulfúrico). Los parámetros de calidad del PAF se encuentran dentro de los intervalos establecidos para este tipo de material adsorbente. Ninguno de los pirolizados contaminó el jugo clarificado. Teniendo en cuenta los resultados, se sugiere la introducción de estos materiales en el proceso productivo de la industria azucarera.
Palabras clave: Jatropha curcas, pirolizado, remoción de color, jugo clarificado.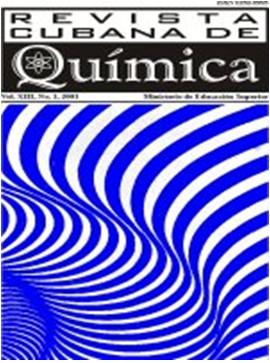 Downloads
How to Cite
Díaz-Pineda, J., García-Cruz, A., González-Sáez, L. Y., & Luis-Orozco, J. (2019). Adsorción de impurezas del jugo clarificado de la industria azucarera mediante biomasa pirolizada. Revista Cubana De Química, 31(3), 463–477. Retrieved from https://cubanaquimica.uo.edu.cu/index.php/cq/article/view/5027
License
This journal provides immediate open access to its content, based on the principle that offering the public free access to research helps a greater global exchange of knowledge. Each author is responsible for the content of each of their articles.