Evaluación de metales pesados e impacto ambiental en los pozos "Rive Fuente" y "Bárbara" del poblado El Cobre
Abstract
En este trabajo se caracterizaron y evaluaron las aguas de dos pozos ubicados en el poblado de El Cobre, de la Provincia Santiago de Cuba. Se efectuaron doce muestreos, analizando en las aguas colectadas metales pesados, debido a la cercanía a la zona minera de este poblado. Los resultados reflejaron que estas aguas no son aptas para ser utilizada como agua potable, ni para abasto, debido a que existen metales pesados cuyos valores son superiores a los establecidos según las Normas Cubanas, NC 827-2012 "Agua Potable" y la NC 1021: 2014 "Higiene Comunal-Fuentes de abastecimiento de agua" tales como Pb, Cd, Al y Cr dando impacto positivos los metales Al y Cd.
Palabras clave: agua potable, calidad del agua, impacto ambiental.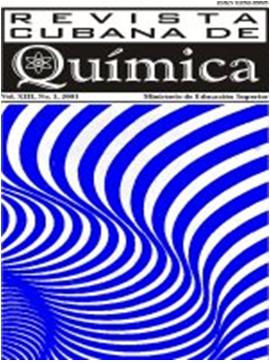 Downloads
How to Cite
Arada Pérez, M. de los Ángeles, Garrido Larramendi, D., & Acebal Ibarra, A. T. (2017). Evaluación de metales pesados e impacto ambiental en los pozos "Rive Fuente" y "Bárbara" del poblado El Cobre. Revista Cubana De Química, 30(1), 68–76. Retrieved from https://cubanaquimica.uo.edu.cu/index.php/cq/article/view/3151
License
This journal provides immediate open access to its content, based on the principle that offering the public free access to research helps a greater global exchange of knowledge. Each author is responsible for the content of each of their articles.