Caracterización de tres bioindicadores de contaminación por metales pesados
Abstract
El incremento del turismo en la costa sur de la Península de Guanahacabibes causa preocupación por su posible impacto negativo sobre este ecosistema marino. En esta zona es común la presencia de las especies Syringodium filiforme, Thalassia testudinum y Sargassum buxifolium, reconocidas como bioindicadores descontaminación para metales pesados. En este trabajo fueron caracterizados estos bioindicadores previo a su empleo en estudios de sorción. La caracterización incluyó análisis por Microscopía Electrónica de Barrido con Energía Dispersiva de Rayos X, Espectroscopía Infrarroja por Transformada de Fourier, Espectrometría Óptica de Emisión con Plasma Acoplado Inductivamente, entre otros. Los resultados obtenidos muestran las potencialidades de estos biomateriales para la bioacumulación de metales pesados. Además, con la caracterización fue posible establecer comparaciones entre los tres bioindicadores, así como seleccionar y respaldar algunos de los posibles mecanismos de unión de los metales pesados a la biomasa.
Palabras clave: Península de Guanahacabibes, Syringodium filiforme, Thalassia testudinum, Sargassum buxifolium, caracterización.
References
LEYVA, G.; BAENA, G. S. Guanahacabibes donde se guarda el sol de Cuba. La Habana: Editorial Academia, 2002. ISBN 78-959-02-0332-9.
RUIZ, I. Las Áreas Protegidas de Cuba. Edtion ed. La Habana: Centro Nacional de Áreas Protegidas, 2017. ISBN 978-959-287-079-6.
MÁRQUEZ, L., G. BAENA, G. LEYVA, P. M. DE CELIS, et al. Plan de Manejo 2012 - 2016 Área Protegida de Recursos Manejados Península de Guanahacabibes. Pinar del Río, 2011.
RAINBOW, P. S. "Biomonitoring of heavy metal availability in the marine environment". Marine Pollution Bulletin. 1995, 31, 183-192. ISSN 0025-326X.
PHILLIPS, D. J. H. "The use of biological indicator organisms to monitor trace metal pollution in marine and estuarine environments". A review. Enviromental Pollution. 1997, 13, 281-317. ISSN0269-7491.
MARKERT, B. A.; BREURE, A. M.; ZECHMEISTER, H. G. Bioindicators and Biomonitors. edited by J.O. NRIAGU. Oxford, UK: Elsevier Science Ltd, 2003. ISBN 978-008-052-797-0.
EIDE, I.; MYKLESTAD, S.; MELSON, S. "Long-term uptake and release of heavy metals by ascophyllum nodosum L. (Phaeophyceae) in situ". Enviromental Pollution. 1980, 23, 19-28. ISSN 0269-7491.
WHELAN, T., ESPINOZA, J. X.; VILLARREAL; COTTAGOMA, M. "Trace metal partitioning in Thalassia testudinum and sediments in the Lower Laguna Madre, Texas". Environment International. 2005, 31 (1), 15-24. ISSN0160-4120.
MASSOL DEYÁ, A.; PÉREZ, D. E.; PÉREZ, M.; BERRIOS, et al. Trace Elements Analysis in Forage Samples from a US Navy Bombing Range (Vieques, Puerto Rico). International Journal of Environmental Research and Public Health, 2005, 2 (2), 263-266.ISSN 1660-4601.
SOLÍS, C.; K. ISAAC OLIVÉ, A.; MARTÍNEZ, E.; LAVOISIER, et al. "Trace metals in the seagrass Thalassia testudinum from the Mexican Caribbean coast". X-Ray Spectrometry. 2008, 37, 103-106. ISSN 1097-4539.
VOLESKY, B.; HOLAN, Z. R. "Biosorption of Heavy Metals". Biotechnology Progress. 1995, 11, 235-250. ISSN 978-084-934-917-1.
FOUREST, E.; VOLESKY, B. "Contribution of Sulfonate Groups and Alginate to Heavy Metal Biosorption by the Dry Biomass of Sargassum fluitans". Environmental Science and Technology, 1996, 30, 277-282. ISSN 1520-5851.
VOLESKY, B.; VIEIRA, F. S. "Biosorption: a solution to pollution?". International Microbiology. 2000, 3, 17-24. ISSN 1618-1905.
DAVIS, T. A.; VOLESKY, B.; MUCCI, A. A review of the biochemistry of heavy metal biosorption by brown algae. Water Research, 2003, 37, 4311-4330. ISSN 0043-1354.
DAVIS, T. A.; VOLESKY, B.; VIEIRA, F. S. "Sargassum seaweed as biosorbent for heavy metal". Water Research. 2000, 34 (17), 4270-4278. ISSN 0043-1354.
LITTLER, D. S.; LITTLER, M. M. Caribbean Reef Plants. Edtion ed. Washington: OffShore Graphics, Inc., 2000. ISBN 0-967-8901-0-1.
BALBÍN, A. I.; ESTEVA, A. M.; PIÑA, J. J.; MACCINI, M. "Analytical method for heavy metal determination in algae and turtle eggs from Guanahacabibes Protected Sea Park". Journal of Electrochemical Science and Engineering. 2014, 4 (4), 145-154. ISSN 1847-9286.
KEITH, L. K. Compilation of EPA's Sampling and Analysis Methods. Edtion ed. Boca Raton, Florida: CRC Press, Inc., 1996. ISBN 1–56670–170–8.
MESTRE, Z.; STURGEON, R. Sample preparation for trace element analysis. edited by D. BARCELÓ. Edtion ed. Amsterdam, The Netherlands: Elsevier, 2003. ISBN 0-444-51101-6.
NASIRUDDIN KHAN, M.; SARWAR, A. "Determination of points of zero charge of natural and treated adsorbents". Surface Review and Letters. 2007, 14 (3), 461-469. ISSN 1793-6667.
FIOL, N.; VILLAESCUSA, I. "Determination of sorbent point zero charge: usefulness in sorption studies". Enviromental Chemistry and Letters. 2009, 7, 79-84. ISSN 1610-3661.
MOTA DA SILVA, V.; SILVIA, L. A. "Determination of moisture content and water activity in algae and fish by thermoanalytical techniques". Quimica Nova. 2008, 31 (4), 901-905. ISSN 1678-7064.
CASAS VALDEZ, M. et al. "El alga marina Sargassum (Sargassaceae): Una alternativa tropical para la alimentación de ganado caprino". Revista de Biología Tropical. 2006, 54 (1), 83-92. ISSN0034-7744.
YANG, L.; CHEN, P. J. "Biosorption of hexavalent chromium onto raw and chemically modified Sargassum sp". Bioresource Technology. 2008, 99, 297-307. ISSN 0960-8524.
SIERRA, L.; ÁLVAREZ, R. "Comparación Bromatológica de las algas nativas (Gracilariopsis tenuifrons, Sargassum filipendula) y exótica (Kappaphycus Alvarezii) del caribe colombiano". Boletín Científico. Museo de Historia Natural. 2009, 13, 17-25.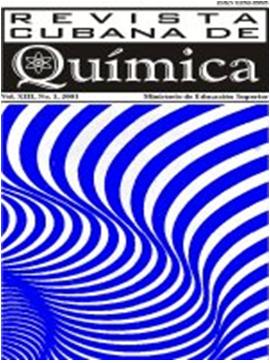 Downloads
How to Cite
Piña Leyte-Vidal, J. J., González-Fernández, L. A., Gutiérrez-Artiles, O., Márquez-Llauger, L., & Alfonso-Del Cristo, T. (2019). Caracterización de tres bioindicadores de contaminación por metales pesados. Revista Cubana De Química, 31(2), 293–308. Retrieved from https://cubanaquimica.uo.edu.cu/index.php/cq/article/view/4902
License
This journal provides immediate open access to its content, based on the principle that offering the public free access to research helps a greater global exchange of knowledge. Each author is responsible for the content of each of their articles.