Comportamiento de un humedal subsuperficial en la depuración de aguas oleosas. Cinética de remoción de DQO
Abstract
En el presente trabajo se evaluó la remoción de materia orgánica y grasas, aceites e hidrocarburos en las aguas residuales oleosas de la Central Eléctrica fuel oil Santa Clara Industrial ¨Los Alevines¨, mediante un humedal subsuperficial experimental. Primeramente se realizó la caracterización de las aguas residuales efluentes del tratamiento primario, instalado actualmente en la entidad, comprobándose queno cumplen con la Norma Cubana de VertimientoNC:27/2012. Se realizó el montaje del sistema experimental que consistió en una columna rellena con bagazo de caña, evaluada anteriormente, como tratamiento secundario y el humedal subsuperficial como tratamiento terciario, obteniéndose una eficiencia de remoción en el humedal de 68% para la DQO y superior a 35 % para las grasas, aceites e hidrocarburos. Se realizó además el estudio cinético de la remoción de la DQO en el humedal experimental, obteniéndose un mejor ajuste de los datos experimentales al modelo cinético de primer orden con una constante cinética de 2,002 d-1.
Palabras clave: humedales subsuperficiales, aguas oleosas, Cyperus Alternifolius.
References
SHON, H. K.; VIGNESWARAN, S.; NGO, H. H.; JOHNSTON, A.; KIM, S.; CHO, J. Performance of Flocculation and Adsorption Pretreatments to Ultrafiltration of Biologically Treated Sewage Effluent: the Effect of Seasonal Variations. Separation Science and Technology, 2006, 41 (16) 3585-3596. ISSN: 1520-5754
FRERS C. "El Uso de Plantas Acuáticas para el Tratamiento de Aguas Residuales. La Gestión del Agua". Observatorio Medioambiental.2008, 11, 301–305.ISSN 1139-1987
KHAZALEH, M.; GOPALAN, B. "Constructed Wetland for Wastewater Treatment". Journal of Modern Science and Technology, 2018, 6(1) 78-86. ISSN: 2201-6686.
WU, S.; KUSCHK, P.; VYMAZAL, J.; DONG, R. "Development of constructed wetlands in performance intensifications for wastewater treatment: A nitrogen and organic matter targeted review". Water Research. 2014, 57, 40-55. ISSN 0043-1354
GONZÁLEZ, Y. M.; PÉREZ, M; MARTÍNEZ, P.; DÍAZ, Y. "Humedales subsuperficiales horizontales en la depuración de aguas oleosas. Cinética de remoción de DQO". Afinidad, 2016 73 (573) 50-54. ISSN 0001-9704.
MARTÍNEZ, P.; ROSA, E.; RODRÍGUEZ, I.; LEIVA, J.; PÉREZ, M. "Minimización del impacto ambiental de las aguas oleosas mediante columna rellena con bagazo de caña de azúcar". Centro Azúcar, 201643 (1): 61-69. ISSN: 0253-5777.
MOLLE, P., LIENARD, A., GRASMICK, A., IWEMA, A. "Effect ofreeds and feeding operations on hydraulic behavior ofverticalflow constructed wetlands under hydraulicoverloads".Water Research, 2006 4 606–612.ISBN 0043-1354.
KADLEC, R. H.; KNIGHT, R., Treatment wetlands. Lewis Publishers. Boca Raton, Florida. 1996.ISBN 978-3-540-03431.
REED, S. C., "Natural Systems for waste management and treatment", 2da edición Mcgraw Hill. New York, 1995.ISBN 0070609829.
GARCÍA SERRANO, J. & CORZO HERNÁNDEZ, A. "Depuración con humedales construidos. Guía práctica de diseño, construcción y explotación de sistemas de humedales de flujo subsuperficial". 2008. Disponible en. http://hdl.handle.net/2117/2474Consultado 21 de marzo de 2018
ONN. "Vertimiento de aguas residuales a las aguas terrestres y al alcantarillado". Especificaciones. Norma Cubana, NC: 27/2012. Cuba. 2012.
APHA, AWWA & WEF. "Standard Methods for the Examination of Water and Wastewater", 21st edn,Washington, DC. 2000. ISBN 10: 0875530478
INRH Instituto Nacional de Recursos Hidráulicos. Procedimiento para la aplicación de la norma NC 27. 2004.
MITCHELL, C. & MCNEVIS, D. "Alternative analysis of BOD removal in subsurface flow constructed wetlands employing Monod kinetics". Water Research, 200135(5), 1295-1303.ISSN: 0043-1354
VYMAZAL, J. Constructed wetlands for treatment of industrial wastewaters: A review. Ecological Engineering. 2014, 73, 724-751. ISSN 0925-8574
SAEED, T.; SUN, G. Z., A. "Comparative study on the removal of nutrients and organic matter in wetland reactors employing organic media". Chemical Engineering Journal, 2011 171 (2) 439-47. ISSN: 1385-8947
SIKDAR, A. Quantification of complex phosphorus removal reactions occurring within wetlands filtration treatment systems, Ontario, Canadá: Doctor of philosophy thesis, Department of Civil Engineering, Queen's University, Kingston, 2007.
PÉREZ, M. M; BOSSENS, J; ROSA E AND TACK. F. M. G., Phosphorus retention capacity in red ferralitic soil. Water Science & Technology, 2014 70 (9), 1561-1568. ISSN, 0273-1223.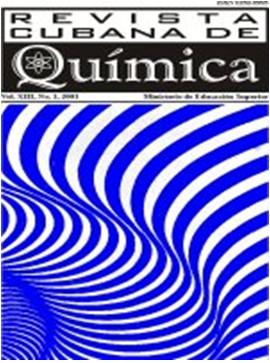 Downloads
How to Cite
González-Roche, Y. M., Pérez-Villar, M. M., Martínez Noda, P. de la C., & Pedrozo-Alfonso, J. C. (2019). Comportamiento de un humedal subsuperficial en la depuración de aguas oleosas. Cinética de remoción de DQO. Revista Cubana De Química, 31(3), 452–462. Retrieved from https://cubanaquimica.uo.edu.cu/index.php/cq/article/view/5036
License
This journal provides immediate open access to its content, based on the principle that offering the public free access to research helps a greater global exchange of knowledge. Each author is responsible for the content of each of their articles.