Cuantificación de los contenidos de nitrato en aguas de pozo y aguas residuales con el empleo de electrodos selectivos
Abstract
En este trabajo se realiza la validación parcial del método potenciométrico empleando electrodos selectivos, para la cuantificación del contenido de nitrato en muestras de aguas de pozo y residuales. Se evalúan los parámetros de desempeño: linealidad, sensibilidad, límite de detección (LD), límite de cuantificación (LC), precisión y efecto matriz. Se obtuvo un intervalo lineal entre 0,5 y 100 mg/L, un límite de detección de 0,367 mg/L y de cuantificación de 1,224 mg/L. El coeficiente de variación se encuentra por debajo de dos, siendo mucho menor a concentraciones de nitrato por encima de 30 mg/L. Se llevó a cabo además una comparación entre la curva de calibración establecida y el método de adición del patrón, observándose efecto matriz. Se realizó la determinación de nitrato en muestras de agua de pozo y aguas residuales, no cumpliendo las mismas con las normas cubanas en materia de agua y aguas residuales.
Palabras clave: nitrato, aguas de pozo, aguas residuales, electrodo selectivo, validación.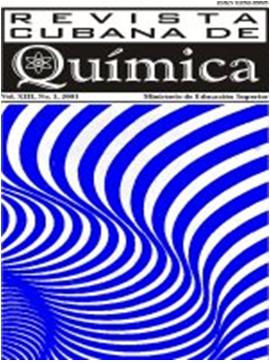 Downloads
How to Cite
Ramírez-González, S., Cruzata-Manuel, R., Zorrilla-Velazco, M., Jiménez-Prieto, Y., Pérez-Villar, M. M., Cruz-Bermúdez, Y., & Morera-Hernández, L. E. (2017). Cuantificación de los contenidos de nitrato en aguas de pozo y aguas residuales con el empleo de electrodos selectivos. Revista Cubana De Química, 30(1), 131–142. Retrieved from https://cubanaquimica.uo.edu.cu/index.php/cq/article/view/3167
License
This journal provides immediate open access to its content, based on the principle that offering the public free access to research helps a greater global exchange of knowledge. Each author is responsible for the content of each of their articles.