Obtaining an affinity support for phospholipase A2 purification
Abstract
The synthesis of a glyoxyl-Sepharose support was achieved departing from Sepharose CL-4B firstly activated, oxidized and aminated. Amination process is done in order to obtain an amino gel that could join specific ligands for phospholipases A2 purification. The egg yolk phosphatidylcholine (ePC) was immobilized by covalent method and was controlled by phosphate determination in the departure material and in laundries. This support has the advantage of being able to be chemically modified achieving different affinity supports. The validity of the supports obtained was checked by the addition of chromatography fractions from the sea anemones Condylactis gigantea and Stichodactyla helianthus, and the known snake venom from Crotalus durisus terrificus with phospholipase A2 activity. The typical elution maximum corresponding was obtained. Phospholipase A2 activity was corroborated qualitatively by a TLC-based method after exposure to purified ePC and fluorogenic substrate 1-palmitoil–2-NBD-C12-PC.
Keywords: affinity chromatography, phospholipase A2, egg yolk phosphatidylcholine immobilization, sea anemone, amine gel.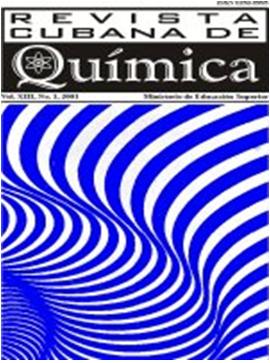 Downloads
How to Cite
Guisado-Bourzac, F., Romero-Del-Sol, D. L., Guisán-Seijas, J. M., González-Bacerio, J., Díaz Brito, J., & del Monte-Martínez, A. (2016). Obtaining an affinity support for phospholipase A2 purification. Revista Cubana De Química, 28(2), 595–609. Retrieved from https://cubanaquimica.uo.edu.cu/index.php/cq/article/view/1146
License
This journal provides immediate open access to its content, based on the principle that offering the public free access to research helps a greater global exchange of knowledge. Each author is responsible for the content of each of their articles.