Synthesis of Prenylated Chalcones Potentially Bioactives through Consecutive Reactions of Claisen's Rearrangement and Condensation
Abstract
The introduction of prenyl and hydroxyl groups in the structure of chalcones could produce new structural analogs with potential biological activity. The synthesis of these compounds is an interesting way for obtaining new therapeutic agents. Using Claisen's rearrangement and condensation reactions assisted by microwaves two prenylated chalcones were obtained with moderate yields (47-52%) and a high degree of purity. The synthetized compounds were structurally characterized by nuclear resonance spectroscopy, infrared spectroscopy, high resolution mass spectrometry and elementary analysis. Keywords: prenylated chalcones, Claisen's rearrangement, Claisen's condensation.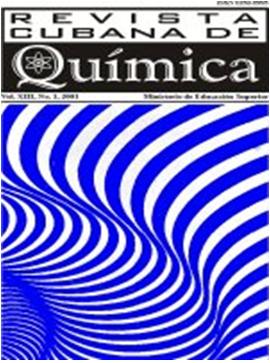 Downloads
How to Cite
Dip, A., Torres, E., Arias, Q., Michalik, M., & Vogel, C. (2016). Synthesis of Prenylated Chalcones Potentially Bioactives through Consecutive Reactions of Claisen's Rearrangement and Condensation. Revista Cubana De Química, 28(3), 834–842. Retrieved from https://cubanaquimica.uo.edu.cu/index.php/cq/article/view/1590
License
This journal provides immediate open access to its content, based on the principle that offering the public free access to research helps a greater global exchange of knowledge. Each author is responsible for the content of each of their articles.