Serum and plasma samples deproteinization for analytical studies of carbamazepine
Abstract
The quantitative determination of carbamazepine in human serum and plasma, it requires of a previous treatment to eliminate the proteins. In this study were used methanol and trichloroacetic acid to 10 %, with the purpose of selecting the protein precipitant that guarantees the biggest effectiveness to remove the proteins. The proportions serum/plasma-protein precipitant 1:2 for the methanol and 1:0,2 for the trichloroacetic acid were used. The evaluation of the efficiency of protein precipitation was carried out applying UV spectrophotometry; the spectra of the precipitated samples were registering in the range of 200-340 nm. The selection approach was the decrease from the absorbance intensity to the wave lengths of maximum absorption of the proteins. The methanol guaranteed a reduction of the absorbance in the region near at 235 nm and 280 nm as much in the serum as in the plasma. The trichloroacetic acid 10% didn't show effectiveness to remove the proteins.
Keyword: Carbamazepine, quantitative determination, serum, plasma, UV- spectrophotometry.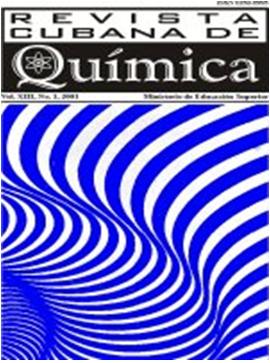 Downloads
How to Cite
Heredia-Díaz, Y., Machado-García, R., Mendoza-Suárez, M., Jardines-Cala, D., & Vázquez-Domínguez, A. (2016). Serum and plasma samples deproteinization for analytical studies of carbamazepine. Revista Cubana De Química, 28(3), 870–889. Retrieved from https://cubanaquimica.uo.edu.cu/index.php/cq/article/view/1622
License
This journal provides immediate open access to its content, based on the principle that offering the public free access to research helps a greater global exchange of knowledge. Each author is responsible for the content of each of their articles.