Variación de la composición de pigmentos de Chlorella vulgaris Beijerinck, con la aplicación del campo magnético estático
Abstract
Chlorella vulgaris es una de las especies de microalgas más estudiadas por su fácil crecimiento y múltiples aplicaciones. En este trabajo se evalúa el efecto de la dosis y el momento de aplicación de un campo magnético estático (CME) de 47,23 mT, aplicado durante una hora en dosis repetidas en fase exponencial temprana y tardía, sobre la cinética de crecimiento y la relación clorofila: carotenos en cultivos de C. vulgaris a escala de laboratorio. Los valores máximos de concentración celular se obtuvieron en cultivos expuestos al CME durante la fase exponencial temprana, en dosis repetidas durante tres días (10 800±123x104 cél. mL-1), valores significativamente superiores respecto al control (4 122±112x104 cél. mL-1) y a aquellos expuestos a la misma dosis en fase exponencial tardía (9 576±207,5x104 cél. mL-1). Los cultivos expuestos al CME presentaron además, mayores concentraciones de clorofila y carotenos, siendo evidente una estimulación de la síntesis de pigmentos como respuesta al estrés.
Palabras clave: campo magnético, Chlorella vulgaris, pigmentos, microalgas.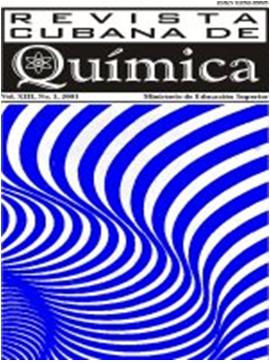 Downloads
How to Cite
Silveira-Font, Y., Gómez-Luna, L., Kufundala-Wemba, M. D., Salazar-Hernández, D., & Ortega-Díaz, Y. (2017). Variación de la composición de pigmentos de Chlorella vulgaris Beijerinck, con la aplicación del campo magnético estático. Revista Cubana De Química, 30(1), 55–67. Retrieved from https://cubanaquimica.uo.edu.cu/index.php/cq/article/view/3149
License
This journal provides immediate open access to its content, based on the principle that offering the public free access to research helps a greater global exchange of knowledge. Each author is responsible for the content of each of their articles.