Propiedades fisicoquímicas del aceite y biodiesel producidos de la Jatropha curcas L. en la provincia de Manabí, Ecuador
Abstract
En este trabajo se determinan las propiedades fisicoquímicas del aceite y del biodiesel, de la semilla de Jatropha curcas L. oriunda de la provincia de Manabí, República del Ecuador. La reacción de transesterificación se realizó con relación molar metanol-aceite 6:1 y 1 % en peso de hidróxido de sodio (NaOH), como catalizador. La determinación de las propiedades del aceite y del biodiesel obtenido fue realizada según las normas ASTM. La evaluación fisicoquímica del aceite de Jatropha curcas L. incluye viscosidad cinemática a 40 oC, (30,85 mm2/s), densidad a 15 oC, (938 kg/m3), el índice de acidez, (2,73 mg KOH/g), temperatura de inflamación (160 0C) e índice de yodo, (99 g I2/100 g) y permite concluir que el aceite es característico de cada región y posee buenas características fisicoquímicas para obtener biodiesel.
Palabras clave: aceite, biodiesel, transesterificación, Jatropha curcas L.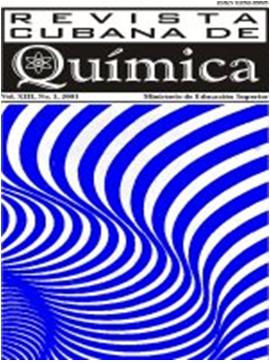 Downloads
How to Cite
Garcia-Muentes, S. A., Lafargue-Pérez, F., Labrada-Vázquez, B., Díaz-Velázquez, M., & Sánchez del Campo-Lafita, A. E. (2017). Propiedades fisicoquímicas del aceite y biodiesel producidos de la Jatropha curcas L. en la provincia de Manabí, Ecuador. Revista Cubana De Química, 30(1), 143–159. Retrieved from https://cubanaquimica.uo.edu.cu/index.php/cq/article/view/3171
License
This journal provides immediate open access to its content, based on the principle that offering the public free access to research helps a greater global exchange of knowledge. Each author is responsible for the content of each of their articles.