Composición química y actividad antioxidante in- vitro de extractos de Adelia ricinella L.
Abstract
Adelia ricinella L. es una planta empleada por la población como analgésico, antipirético y emenagogo. En la presente investigación se obtuvieron tres extractos por extracción con Soxhlet, empleando etanol 95 %, 50 % y agua como solventes, a partir de las partes aéreas de la planta. A los extractos se le determinaron los principales metabolitos secundarios cualitativa y cuantitativamente. La actividad antioxidante fue medida empleando métodos in–vitro de neutralización de los radicales ABTS y DPPH. El análisis cualitativo mostró la presencia de alcaloides, cumarinas, azúcares reductores, fenoles, carbohidratos y flavonoides, cuantificándose un mayor contenido de los cuatro últimos en el extracto etanol 50 %. De igual forma, el extracto etanólico al 50 % fue el de mayor actividad, determinándose una concentración inhibitoria media (CI50) de 0,29 ± 0,01 mg/mL para ABTS y 0,53 ± 0,02 mg/mL para DPPH. Las evidencias obtenidas demuestran que la A. ricinella pudiera resultar útil para el tratamiento de enfermedades causadas por el estrés oxidativo.
Palabras clave: Adelia ricinella L, composición química, fenoles totales, flavonoides, actividad antioxidante.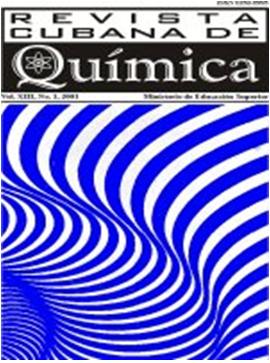 Downloads
How to Cite
Berenguer-Rivas, C. A., Mas-Ortiz, M., Batista-Corbal, P. L., Costa-Acosta, J., & Escalona-Arranz, J. C. (2018). Composición química y actividad antioxidante in- vitro de extractos de Adelia ricinella L. Revista Cubana De Química, 30(2), 191–209. Retrieved from https://cubanaquimica.uo.edu.cu/index.php/cq/article/view/3658
License
This journal provides immediate open access to its content, based on the principle that offering the public free access to research helps a greater global exchange of knowledge. Each author is responsible for the content of each of their articles.