Caracterización fisico-química de vinazas de destilerias
Abstract
Se realizó la caracterización fisicoquímica de las vinazas obtenidas en el proceso de producción de alcohol a partir de miel final, en las Destilería "Argeo Martínez "y "Arquímedes Colina" de las Provincias Guantánamo y Granma respectivamente. Fueron determinados parámetros físico-químicos clásicos para evaluar el poder contaminante de la vinaza, y se compararon con la Norma Cubana 521:2007. Los resultados obtenidos muestran que los parámetros: DQO, conductividad eléctrica, pH, temperatura, nitrógeno total y contenido de hierro se encuentran por encima de los límites máximos permisibles. Se demuestra el efecto contaminante de las vinazas estudiadas, corroborándose que es inadecuada la disposición final de este residual a las aguas terrestres y marítimas sin un tratamiento previo.
Palabras clave: destilería, vinaza, caracterización.
References
- LARRAHONDO, J. "La vinaza: Caracterización de la vinaza, usos y aprovechamientos potenciales" Memorias Seminario internacional de Fertilización y Nutrición de la Caña de Azúcar, Tecnicaña. Cali, Colombia, pp. 69 – 90, Noviembre 2009.
- BERMÚDEZ, R.; HOYOS, J.; RODRÍGUEZ, S. "Evaluación de la disminución de la carga contaminante de la vinaza de destilería por ensayo anaeróbico". Revista Internacional de contaminación ambiental. 2000, 16, 103-107. ISSN: 0188-4999
- DÁVILA, J.; MACHUCA, F.; MARRIANGA, N. "Reducción de demanda química de oxígeno, carbono orgánico total y sólidos totales en vinazas mediante electroflotación/oxidación". Revista Ingeniería e Investigación. 2009, 29, 35-38. ISSN: 0120-5609
- CHANFÓN, J.; LORENZO, Y. "Alternatives for treatment of the distillery vinasse. National and international experiences". Revista Centro Azúcar. 2014, 41 (2), 56-67. ISSN: 2223-4861.
- CLESCERI, L. "Standards Methods for Examination of Water and Wastewater".17ma edición. APHA – AWWA - WPCF. Washington, 1989.
- OROZCO, C. et al. "Contaminación ambiental: una visión desde la Química". 1ra Edición. Ed. Paraninfo S. A. España. 2004, pp. 590
- MATISSEK, R.; SCHNEPEL, F.; STEINER G. "Análisis de los alimentos. Fundamentos, métodos y aplicaciones". Editorial Acribia, S.A. Zaragoza, España, 1998. ISBN: 978-84-200-0850-9
- SKOOG, D.; HOLLER, F.G.; NICMAN., "Principios del Análisis Instrumental". 5ta Edición. Ed. McGraw Hill. USA, 2005. ISBN: 978-84-481-2775-6
- LANZA, J.; GREGORIO, J.; CHURION, P.; GOMEZ, N. "Comparación entre el método Kjeldahl tradicional y el método Dumas automatizado (N cube) para la determinación de proteínas en distintas clases de alimentos". Revista Saber. 2016, 28, (2), 245-249. ISSN: 2343-6468.
- LEZCANO, P.; MORA, P. "Las vinazas de destilería de alcohol. Contaminación ambiental o tratamiento para evitarlo". Instituto de Ciencia Animal, Editorial Científico Técnica, La Habana, Cuba. 2006. [15/02/17]. Disponible en: avpa.ula.ve/eventos/viii_encuentro_monogastricos/memorias/conferencia-7.pdf.
- LEAL, G. et al. "Caracterización fisicoquímica de la vinaza del Agave cocui y su posible uso agroindustrial". Revista Multiciencias, 2003, 3 (2), 83-88. ISSN: 1317-2255
- ICIDCA.3"Manual de los Derivados de la Industria Azucarera". Instituto Cubano de Investigaciones de los Derivados de la Caña de Azúcar (ICIDCA). Editorial Científico Técnica, La Habana, Cuba, 2000. [07/01/17] Disponible en: https://www.academia.edu/10912163/MANUAL_DE_LOS_DERIVADOS_DE_LA_CAÑA.
- RODELLA, A.; PARAZZI, C.; CARDOSO, A. "A composição da Vinhaca". Brasil Açucareiro. 1981, 97, (1), 25-33.
- NC 521: 2007 "Vertimiento de aguas residuales a la zona costera y aguas marinas. Especificaciones". 1. Edición ICS: 13.060.30
- MANAHAN, S. "Fundamentals of Enviromental Chemistry". CRC Press, 2da Edicion, USA, 2001. ISBN: 1-56670-491-X
- SAURA, G. et al. "Tecnología de producción de levadura utilizando las vinazas de destilería como fuente mayoritaria de carbono y energía". Instituto Cubano de Investigaciones del los Derivados de la caña de azúcar (ICIDCA). 2002, 36 (2), 20. ISSN: 0138-6204
- BASANTA, R. et al. "Sostenibilidad del reciclaje de residuos de la agroindustria azucarera: una revisión". Revista Ciencia y Tecnología Alimentaria. 2007, 5, 293-305. ISSN 1135-8122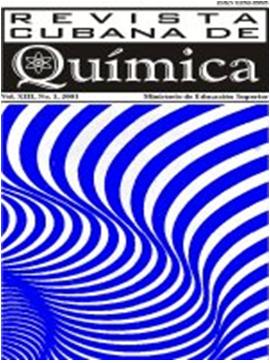 Downloads
How to Cite
Ibarra-Camacho, R., León-Duharte, L., & Osoria-Leyva, A. (2019). Caracterización fisico-química de vinazas de destilerias. Revista Cubana De Química, 31(2), 246–257. Retrieved from https://cubanaquimica.uo.edu.cu/index.php/cq/article/view/4899
License
This journal provides immediate open access to its content, based on the principle that offering the public free access to research helps a greater global exchange of knowledge. Each author is responsible for the content of each of their articles.