Recognition to the ion Ag + with a selective electrode "all solid stated"
Abstract
Has been prepared a sensitive electrode to the silver cation for that which was used 5-(4-dimethylaminobenzylidene)rhodanine dissolved in dibutylphthalate (DBP) and immobilized in polylvinyl chloride (PVC) on a support of conductive resin. The results show that the electrode presents a lineal answer in the range from 10-2 to 10-6 mol/L with a slope of 69,90 ± 1,73 mV.dec-1 respectively in the range of time that was analyzed. The time of answer of the electrode was determined (25 s) and the selectivity coefficient was calculated for diverse ions. This study has shown for the studied ions (Cu2+, Pb2+ and Cd2+) that the value of    is in the order of 10-3 mol/L, not being strong interferents for the values obtained.
Keywords: sensor; Potentiometric sensors; Ion-selective electrode, 5-(4-dimethylamino benzylidine)rhodanine.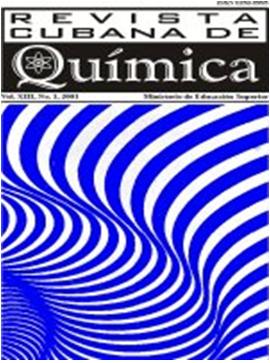 Downloads
How to Cite
Arada-Pérez, M. de los A., Pacheco-Ramírez, Y., & León-Duharte, L. (2016). Recognition to the ion Ag + with a selective electrode "all solid stated". Revista Cubana De Química, 28(2), 660–674. Retrieved from https://cubanaquimica.uo.edu.cu/index.php/cq/article/view/1150
License
This journal provides immediate open access to its content, based on the principle that offering the public free access to research helps a greater global exchange of knowledge. Each author is responsible for the content of each of their articles.