Influencia de ácidos húmicos en indicadores bioquímicos y físico-químicos de la calidad del tomate
Abstract
Se evaluó el efecto de ácidos húmicos en indicadores bioquímicos y físicoquímicos de la calidad del tomate. Se aplicaron ácidos húmicos a las plántulas en concentraciones de: 250, 500, 750 y 1 000 mg L-1. Se empleó un control para un total de 5 tratamientos con 5 réplicas, que se ubicaron sobre un diseño de bloques al azar. Los datos obtenidos fueron evaluados mediante análisis de varianza y comparación de medias por la prueba de Tukey (p ≤ 0,05). Los ácidos húmicos aplicados tuvieron una respuesta positiva sobre los indicadores evaluados, logrando incrementos significativos de pH, sólidos solubles totales, carbohidratos solubles totales, materia seca, vitamina C, firmeza, diámetro axial y ecuatorial, y la relación sólidos solubles totales/acidez titulable, así como una reducción de la acidez titulable y la pérdida de peso del fruto en comparación con el control, obteniéndose los mejores resultados con la concentración de 500 mg L-1 de ácidos húmicos.
Palabras clave: ácidos húmicos, indicadores bioquímicos, indicadores físico-químicos, calidad, tomate.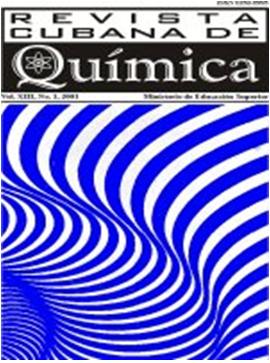 Downloads
How to Cite
Alarcón-Zayas, A., Barreiro-Elorza, P., Boicet-Fabré, T., Ramos-Escalona, M., & Morales-León, J. Ángel. (2018). Influencia de ácidos húmicos en indicadores bioquímicos y físico-químicos de la calidad del tomate. Revista Cubana De Química, 30(2), 243–255. Retrieved from https://cubanaquimica.uo.edu.cu/index.php/cq/article/view/3678
License
This journal provides immediate open access to its content, based on the principle that offering the public free access to research helps a greater global exchange of knowledge. Each author is responsible for the content of each of their articles.