Efecto de la velocidad de calentamiento y la biomasa en la cinética de supirólisis
Abstract
Este trabajo tiene como objetivo precisar la influencia del tipo de biomasa y la velocidad de calentamiento (), en la cinética de descomposición pirolítica de Teca y Guachapelí. Experimentalmente se caracterizó la biomasa química y energéticamente utilizando análisis elemental e inmediato y se pirolizó la muestra utilizando dos equipos de análisis térmico, uno convencional (ATG) y otro de análisis simultáneo (ATG, TGD, CDB). La caracterización química demostró las potencialidades de las biomasas como fuentes de energía. El estudio cinético realizado identificó los modelos cinéticos y los valores de energía de activación, para la devolatilización de hemicelulosa, celulosa y lignina para ambas maderas, demostrándose que no se debe escoger a priori el modelo F1, como el determinante. Se demuestra la influencia de la velocidad de calentamiento y del tipo de biomasa en los resultados cinéticos obtenidos, por lo tanto, no deben extrapolarse resultados de bajas a altas velocidades de calentamiento.
Palabras clave: maderas ecuatorianas, cinética, efecto velocidad de calentamiento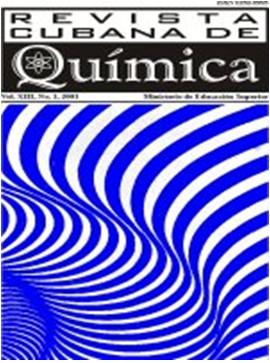 Downloads
How to Cite
Quesada-González, O., Cantos-Macias, M. A., L. Duharte, W., Pozo-González, D. M., & Bigñot-Favier, L. C. (2019). Efecto de la velocidad de calentamiento y la biomasa en la cinética de supirólisis. Revista Cubana De Química, 31(3), 478–497. Retrieved from https://cubanaquimica.uo.edu.cu/index.php/cq/article/view/5030
License
This journal provides immediate open access to its content, based on the principle that offering the public free access to research helps a greater global exchange of knowledge. Each author is responsible for the content of each of their articles.